Looking for bedroom decor ideas? A bedroom mirror can help you to renovate the most private space in your house. The first thing to consider is what will the mirror be used for:
increase the amount of natural light cast into the room or give the sense of more square footage
create a functional vanity dressing table
as a decorative feature to enhance your bedroom style
Let's explore these three options further.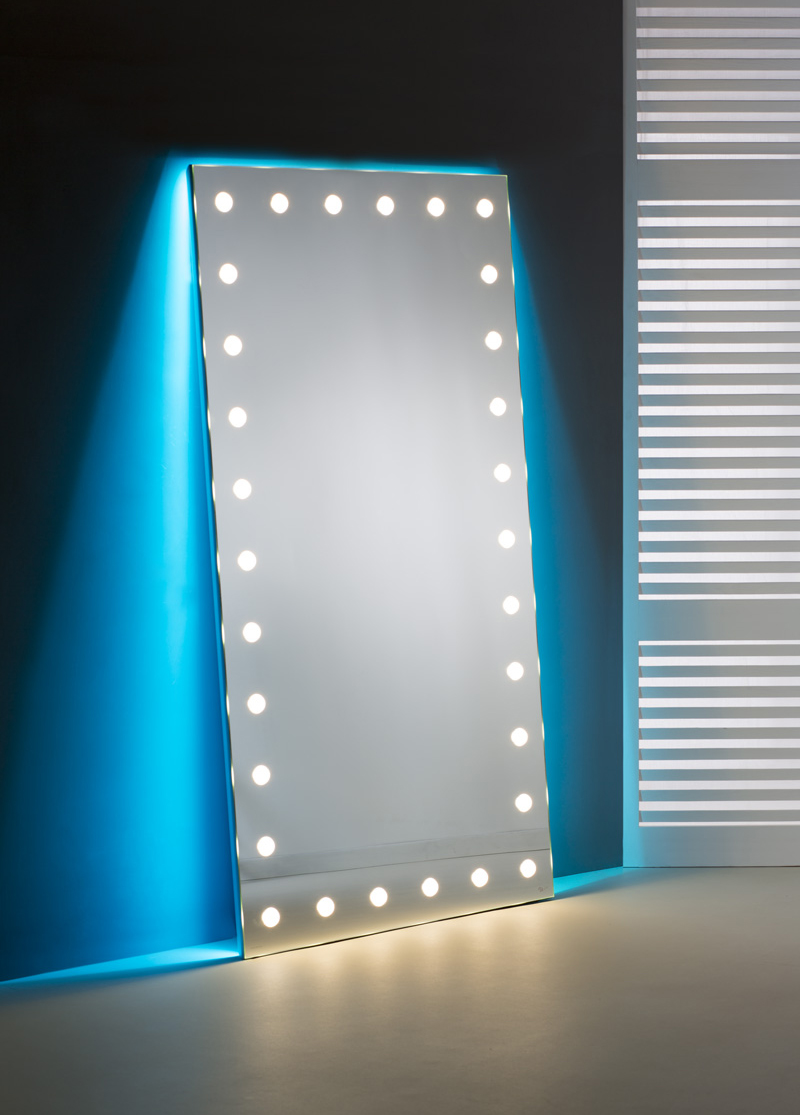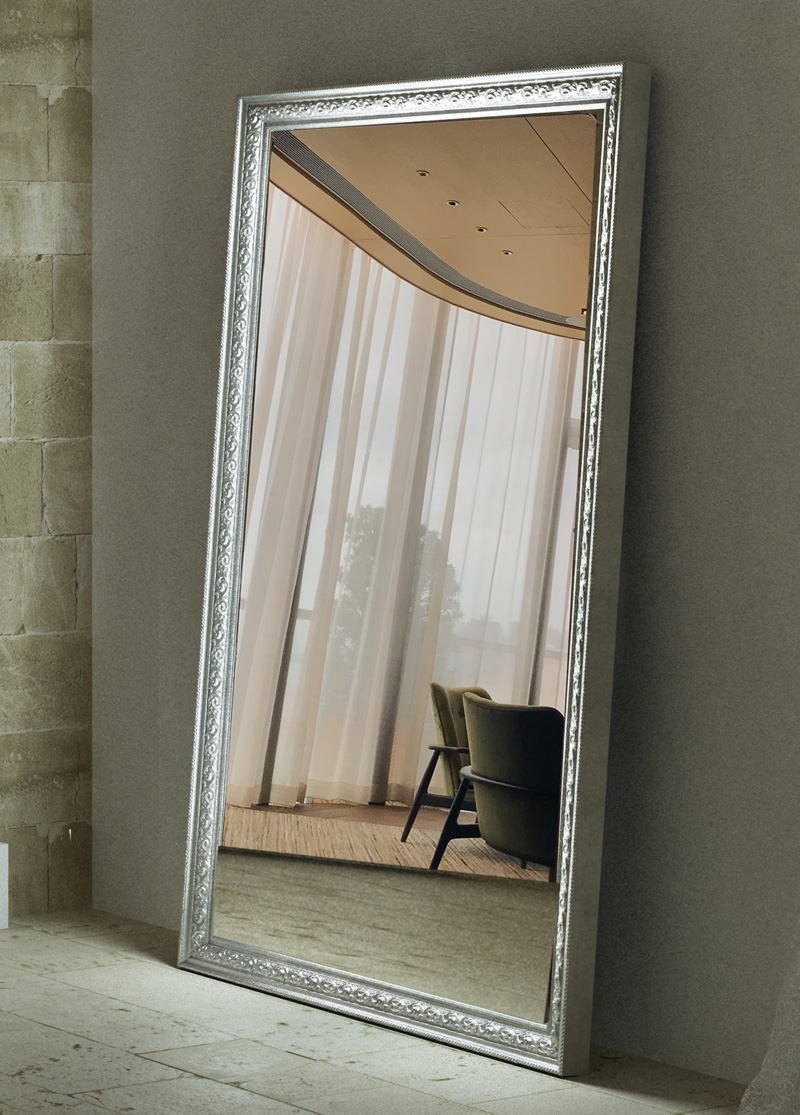 Large floor mirrors
To increase a sense of space, a full length freestanding mirror is the most versatile solution to fulfill this need. Place it in a corner of the bedroom, but if possible not facing your bed:  according to Feng-shui, a mirror has the ability to activate the energy within a room, and therefore it may disturb your sleep.  And make sure it's reflecting  items you are looking to show off, whether it be an ornament or a piece of furniture (not clutter), as mirrors double what they project! 
If your intent is to play with light in a dark bedroom, place a large floor mirror opposite or next to the window; it will be able to harness daylight and bounce it around your room. Obviously, the larger the mirror, the more striking the effect. And a long mirror leant against a wall, reflecting the ceiling, adds an extra dimension to the room.
Last but not least, a full length floor mirror with lights it's always a great choiche as dressing mirror.
Bedroom wall mirrors
When it comes to wall mirrors, there are no unbreakable rules: you have a wide range of possible placements as decorative element and as unconventional lighting point. Unica mirrors frames, shapes and sizes allow you to play from contemporary to minimalist to traditional styles: a modern silver framed mirror or a large gold mirror, finished with the warmth of wood, or combinations of mirrors with and without lights and illuminated wall art.
And remember that placing the mirror directly across from your bedroom door will reflect the outside hallway, making the room appear longer.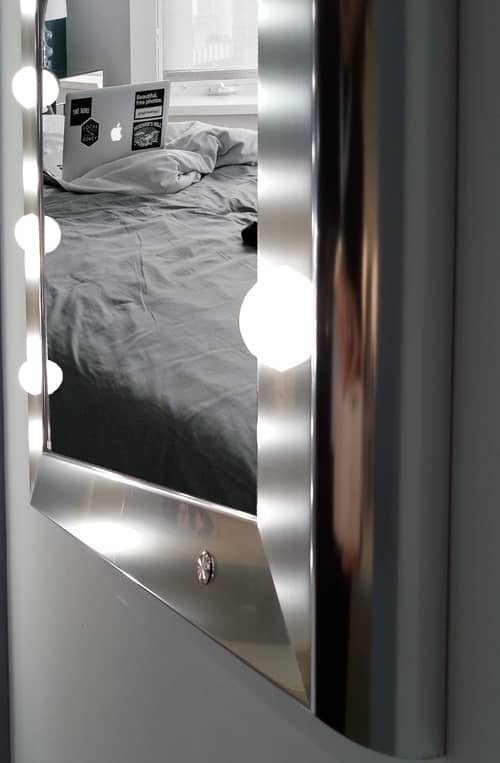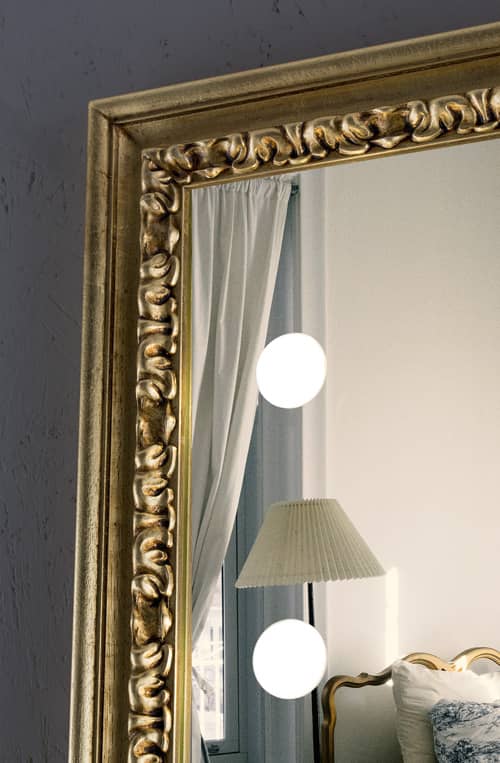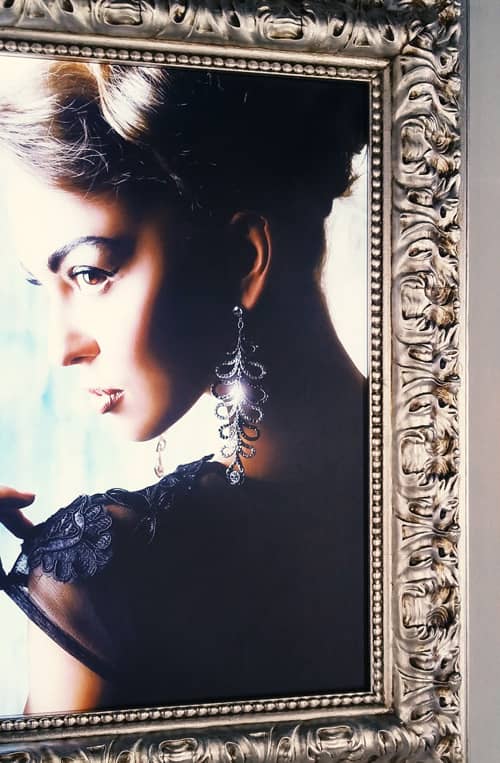 Custom mirrors for your bedroom
A bespoke mirror can be a good starting point to explore ideas for a modern bedroom. Our design team can assist you for a complete custom project, to mix lighted mirrors and backlit wall panels and find the perfect combination of direct and indirect light, to create a comfortable and charming environment.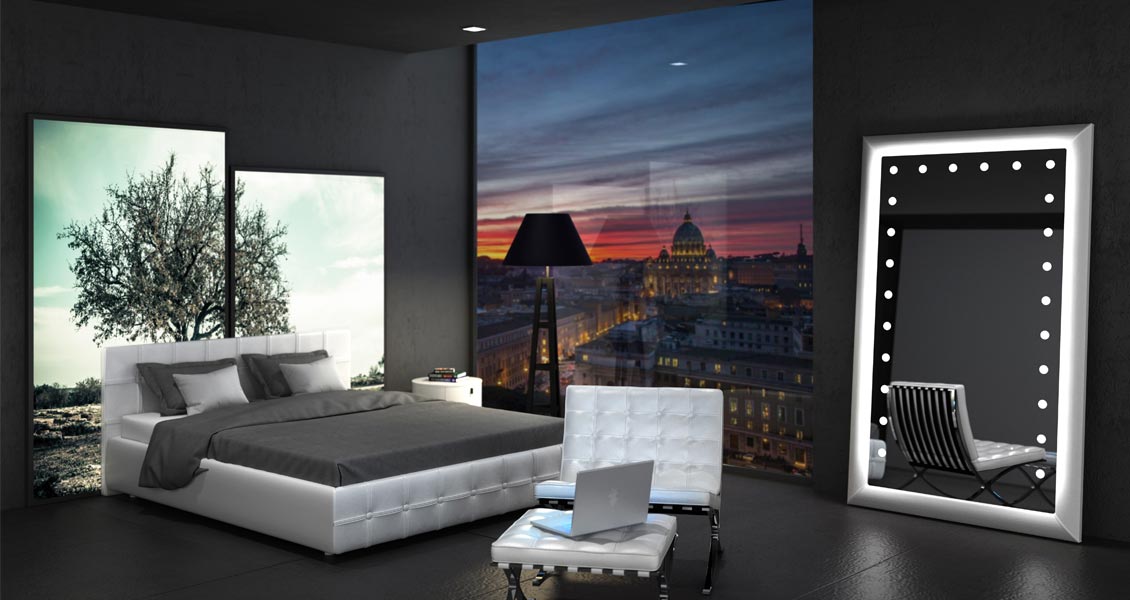 Dressing table with mirror
If you dream of a dressing table with a mirror in the room, you're plenty of opportunities! We must admit,  we are highly specialized in this mirror placement. Needless to say that in this case the good lighting of your mirror is a paramount. In the Unica mirrors the lighting system I-light is the one developed by Cantoni for professionals make-up artists.
Usually it is recommended to place the vanity mirror with lights:
60 inches off the ground if you're standing
38-44 inches if you'll be sitting.
But obviously it depends a lot on the furniture you have chosen to create your dressing table and the chair you're using.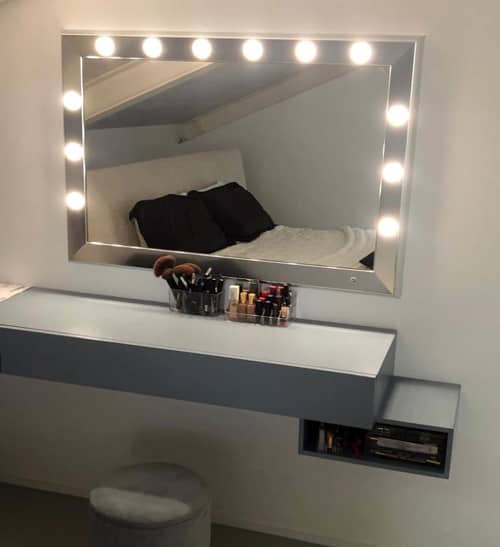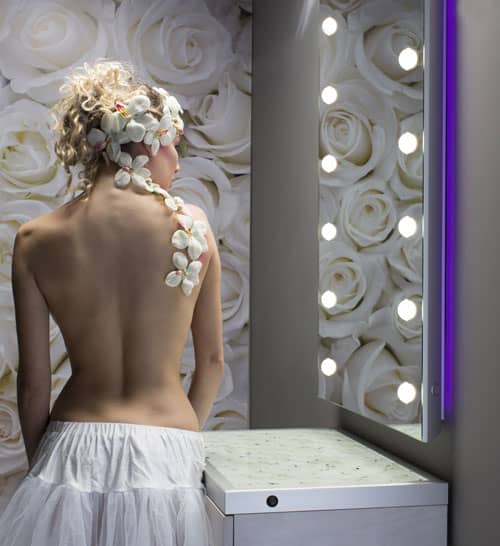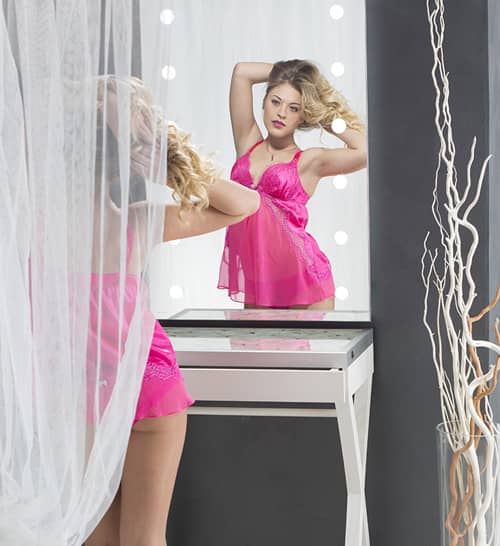 If you're planning to create a dressign table with mirror in your bedroom, have a look at our dressing table collection: we use black or white stained ash wood to produce these modern handcrafted vanity desks.
For your make-up corner you can also consider to use a free standing dressing table mirror, provided with the proper lighting.
The icing on the cake? A luxury salon chair of course!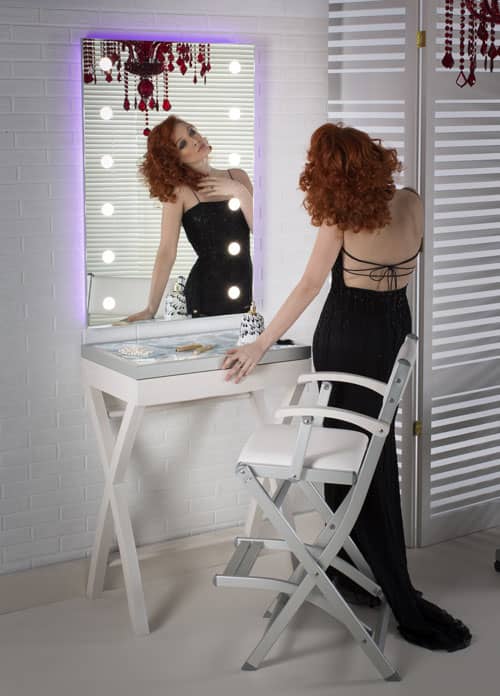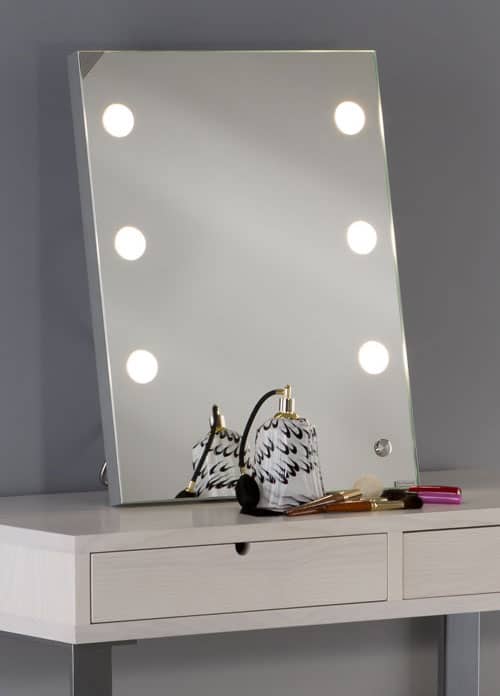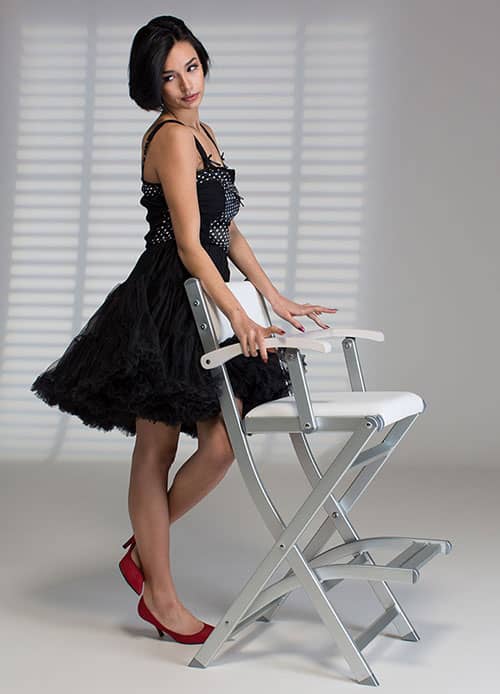 The original aesthetic balance between innovation and tradition makes Unica mirrors with lights and illuminated wall panels perfect for use in a bedroom. The internal structure in non-deformable aluminium guarantees a reflection that is always perfect, even with mirrors of larger dimensions.