MDE Range Of Mirrors
It is amazing what light can do

MDE: cutting edge 

technology for Hollywood style mirrors
A range of wall-mounted lighted mirrors for furnishing corporate and commercial spaces
The MDE range is a successful combination of function, advanced light technology and sensual Hollywood style mirrors appeal.
The incorporeal surface of the frameless mirror houses the curved profile of the opalescent lenses in elegant mountings, recreating the colour rendering of sunlight with absolute perfection. Countless hours of research into light refraction are encompassed in the apparently simple design of this collection.
I-light technology, which is fully integrated and recreates the colour rendering and incidence of sunlight with absolute perfection, guarantees enveloping and even lighting of the body and face. These mirror units with clean, elegant lines, designed to furnish corporate spaces, perfect as salon mirrors with lights. can be used to create appealing and highly functional corners in commercial spaces, hair salons, chemists and opticians thanks to their low energy consumption, simplicity of installation and the absolute absence of heat emissions.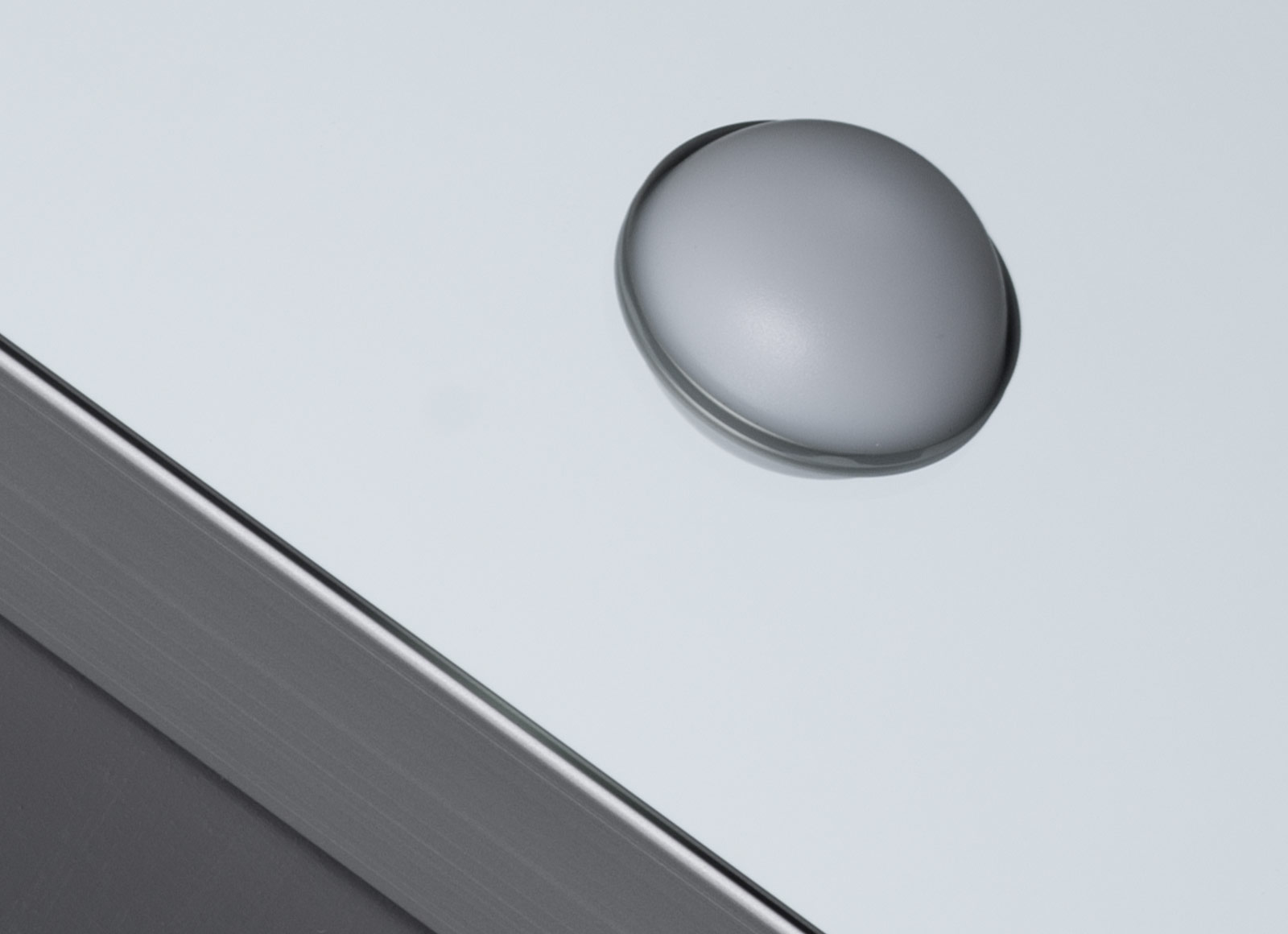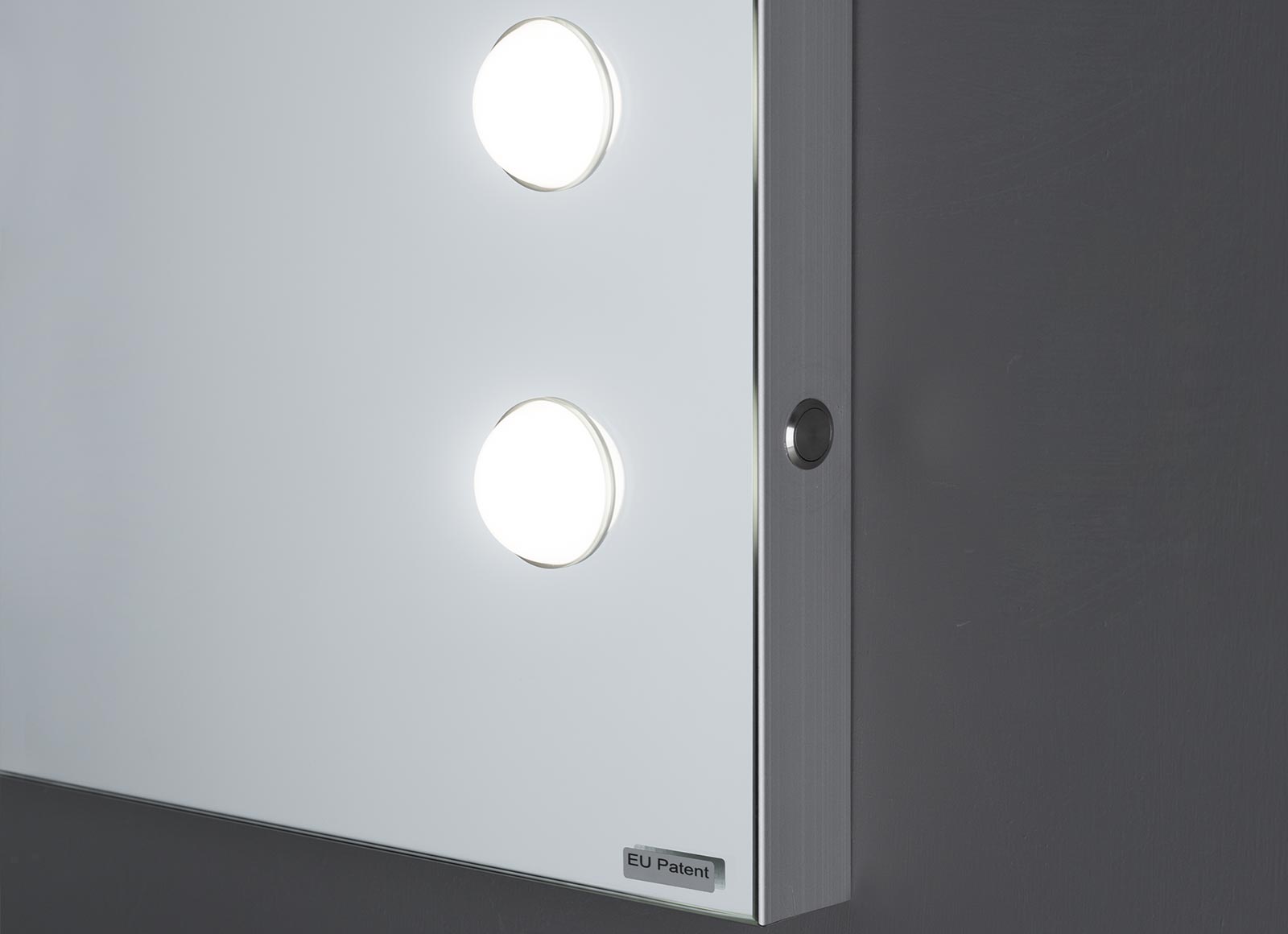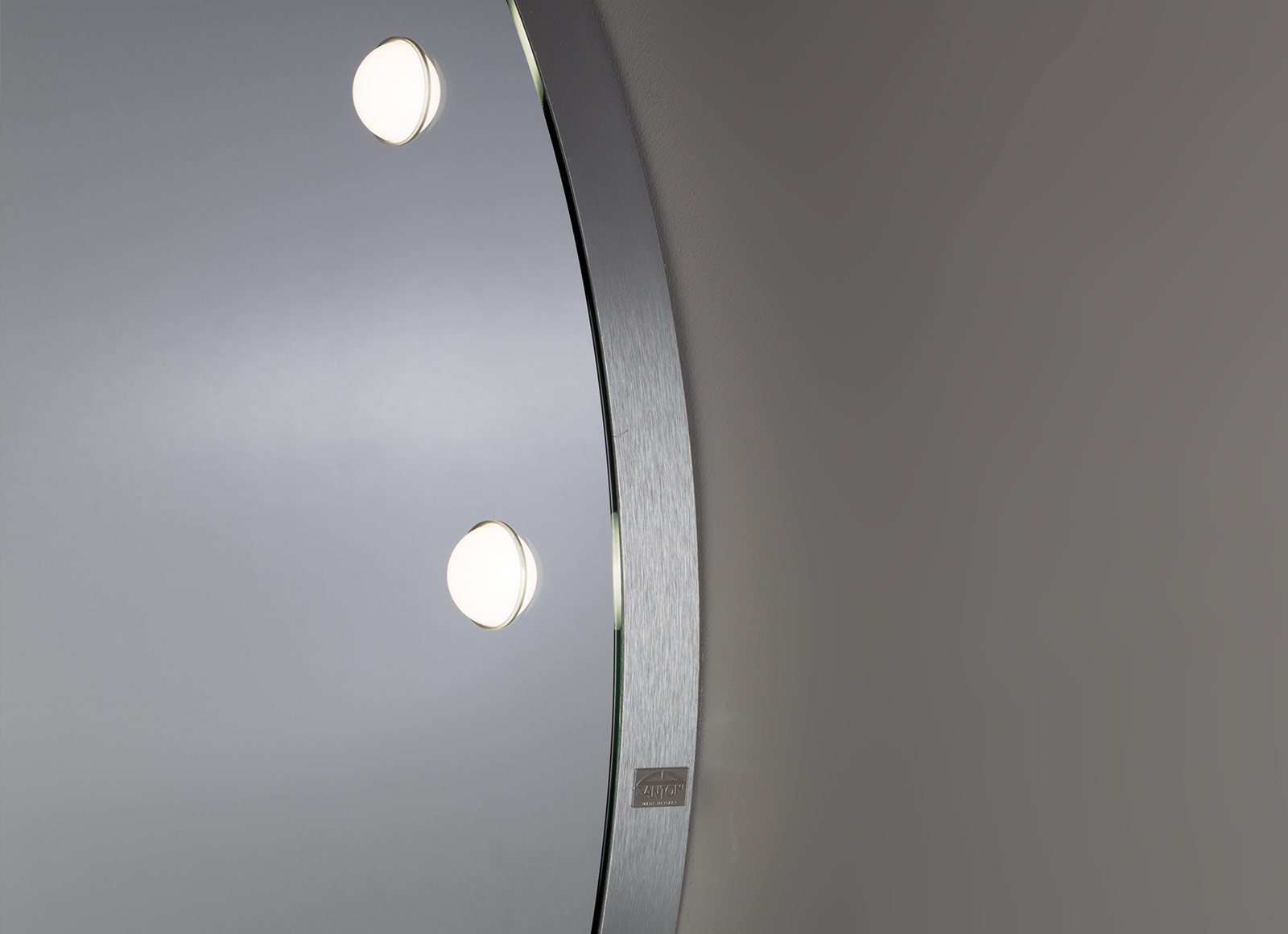 MDE CATALOGUE
download the PDF version
 INFORMATION
Would you like to buy an MDE mirror?
The MDE range includes hollywood style mirrors with I-light diffused lighting in silver-coated float glass, with a 40 mm curved or linear profile in silver anodized aluminium and continuously adjustable brightness. The MDE modules can be installed next to each other to create large mirrored surfaces.
MDE lighted mirrors are also available as compact table or free standing mirrors.
40 mm profile in matt silver anodized aluminium
Mirror resistant to corrosion (10X) and scratches (3X)
Safety film
Dimmable I-light lenses
Kelvin: 4200°
Guaranteed lifetime hours 100,000/h
Integrated side actuator
110-240V compatible
Low energy consumption
No photobiological risk
CE certification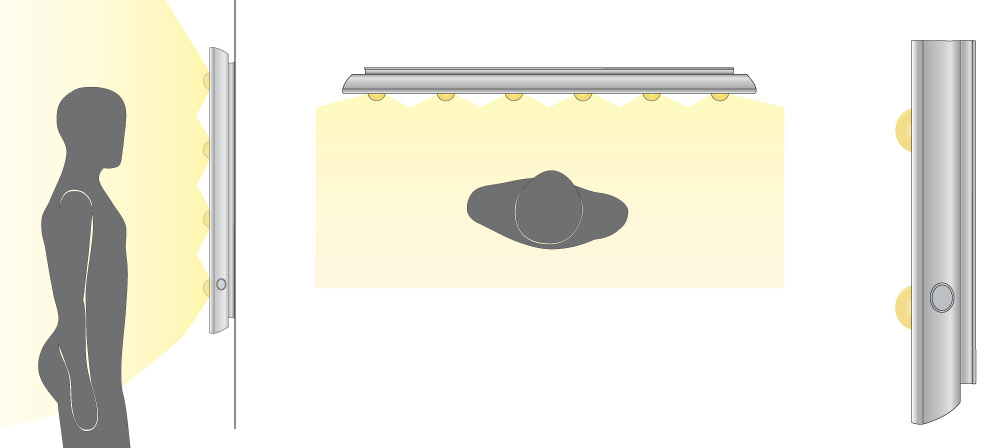 The spacing between and the number of the I-light lenses for each mirror is the perfect one to light up the full source of the mirror and the mirrored image, with no shadow areas.
For further options and max and min size, see 'Customisation options' below





Natural light 4200° Kelvin









Complies with the essential requirements of EU directives applicable to the product:
Low Voltage Directive 2014/35/EU, Electromagnetic Compatibility Directive 2014/30/EU and ROHS Directive 2011/65/EU, when installed in compliance with these instructions.
Applicable harmonised regulations:
EN 60598-1:2015, EN 60598-2-1:1989, EN 62031:2008+A1:2013+A2:2015, EN 62471:2008, EN 61347-1:2008+A1:2011+A2:2013, EN 61347-2-13:2006, EN 62479:2010, EN 55015:2013, EN 61547:2009; EN 61000-3-2:2014; EN 61000-3-3:2013
Standard Anodized Finish
ACH – Matt chemical silver
Other finishes are available on requested
Made-to-measure also available
Various standard sizes ( see 'sizes available')
Side-by-side modular elements
Also available without light
Made-to-measure also available
Min. size 410 mm Max. size 1850 mm
Max 30 I-Light lighiting sources
Cantoni will assess feasibility, methods, costs and times for the customisation of products on a case-by-case basis.
Our Hollywood style mirrors are unique pieces.
If you would like a design, quote or information