If you are wondering which mirror is best for the bathroom you have come to the right place, as Unica and Cantoni are the manufacturers brands specialized respectively in the production of design mirrors and the patented I-light professional light, designed for skin care and makeup.  First of all, if you're thinking about the bathroom mirror with lights as a decorative element, you should remodel your idea of a bathroom, especially starting from all the activities you usually do there!
In the morning you often shave your beard, and everyday you spend minutes (and hours in some cases) applying skincare products, doing make-up or setting an hair style. All these gestures to be correctly accomplished need to have good lighting, especially if you're not so lucky to have big sunny windows in front of your sink, and even if you have it you still take care of yourself before going out for a special night!
This is the reason why any mirror can't go in a bathroom and you should follow some details to don't have the risk everyday to go to the office with a darker shade of foundation on your face or with a different shape of your beard.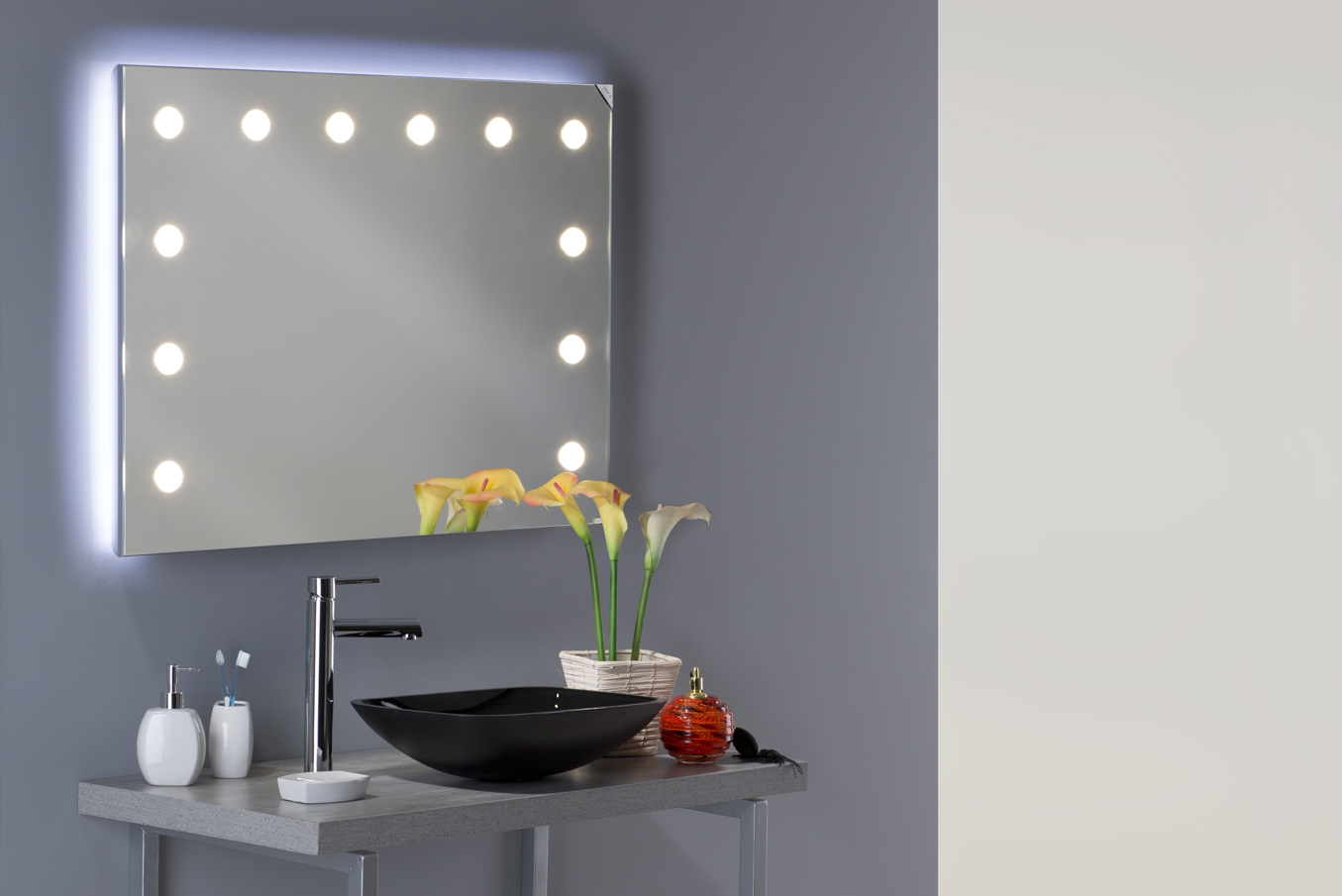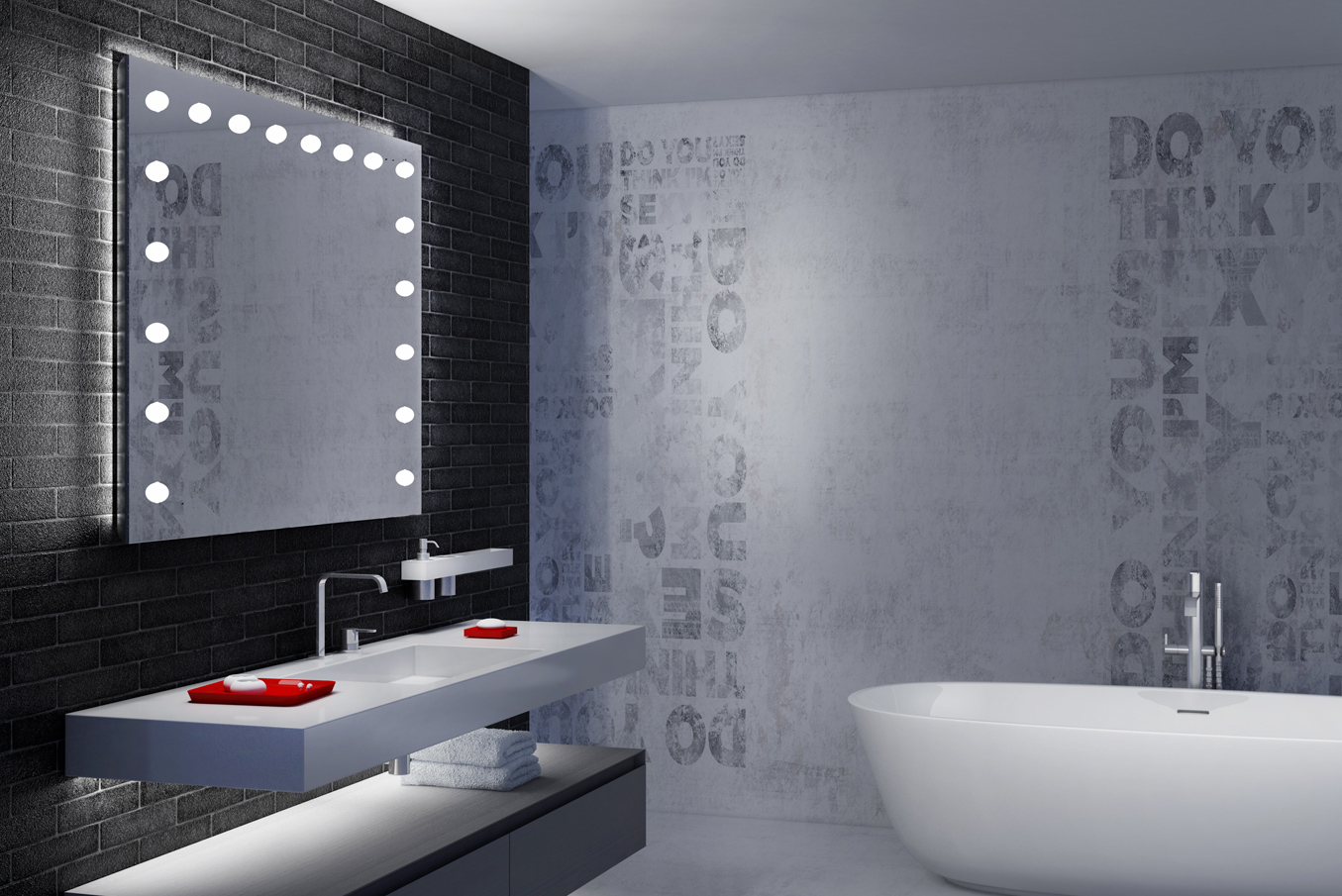 The best lighting for a wall bathroom mirror is integrated and well placed!
Having a strip of leds or lights hanging over the mirror doesn't mean to have the right lighting because they don't provide light enough. For example, with a mirror lighted from the top only, you'll perpetually appear with dark circles, caused by the shadows of the lashes ! The perfect way to see yourself in front of a mirror is with :
a well placed, 
natural light look-like illumination and
a

color temperature that reproduces that of the morning light (around 4200 ° K).
It could be a plus to have a system with a dimmer to adjust the light based on the sun outside.
Some other technical points you should to pay attention to have the perfect lighted bathroom mirror: 
Light is uniform and always identical during years

: It's essential that light bulbs are correctly placed around or on the sides of the mirror because this is the only way to have a uniform lighting without creating shadow areas on the face and body.

Lights don't create heat or everheat
Energy-saving light bulbs (max 4 watt/h)

A light technology that

doesn't need maintenance (at least for 100.000 working hours) or replacement
Wall bathroom mirror with lights, backlit and edge lit: which is the right combo?
A lighted mirror is a functional piece of furniture in a bathroom but it could also be a decor if you add a backlit with a color that matches your accessories. Mirrors with an edge lit instead are a decor only but never spread a good lighting for your everyday activities.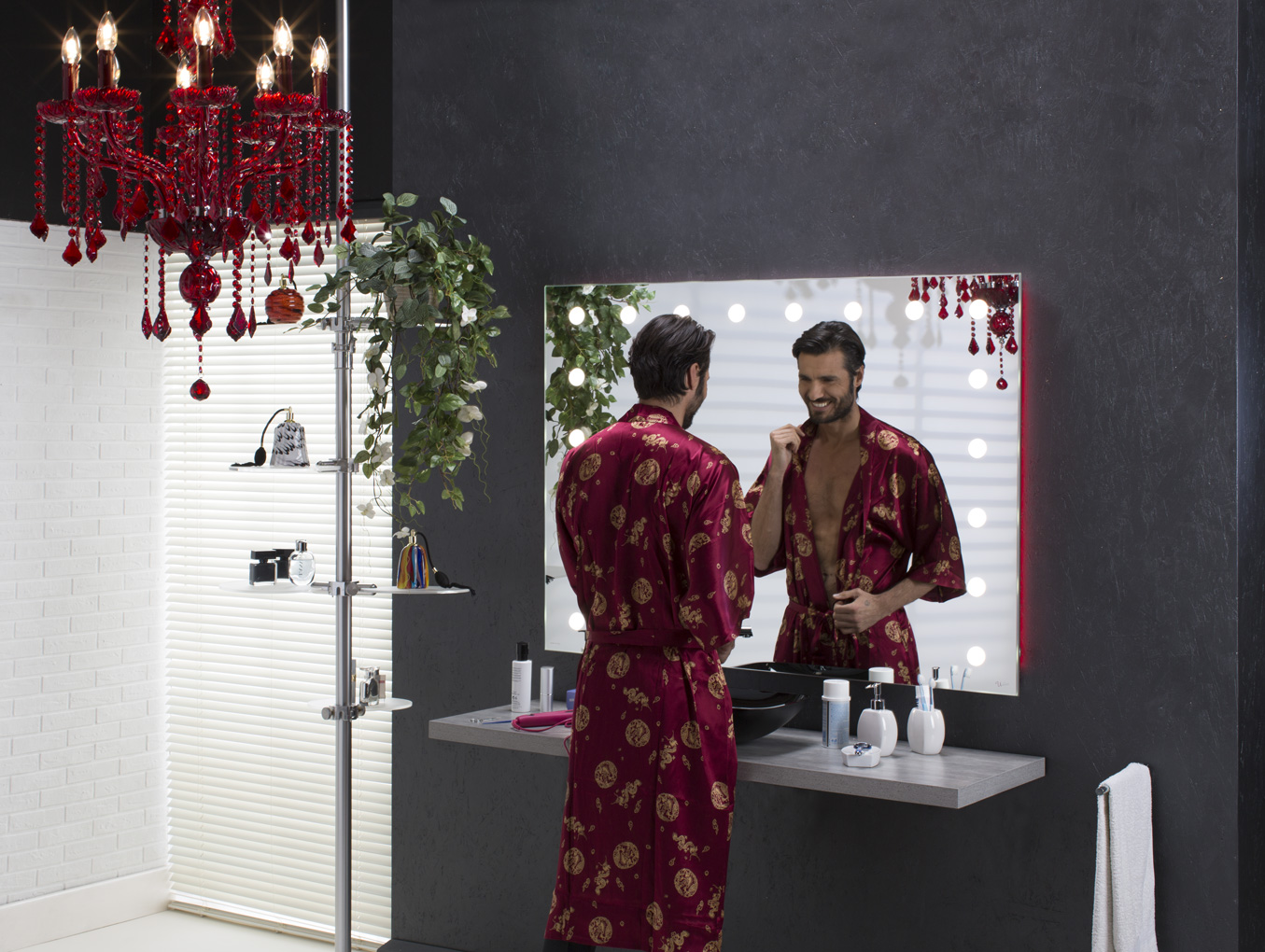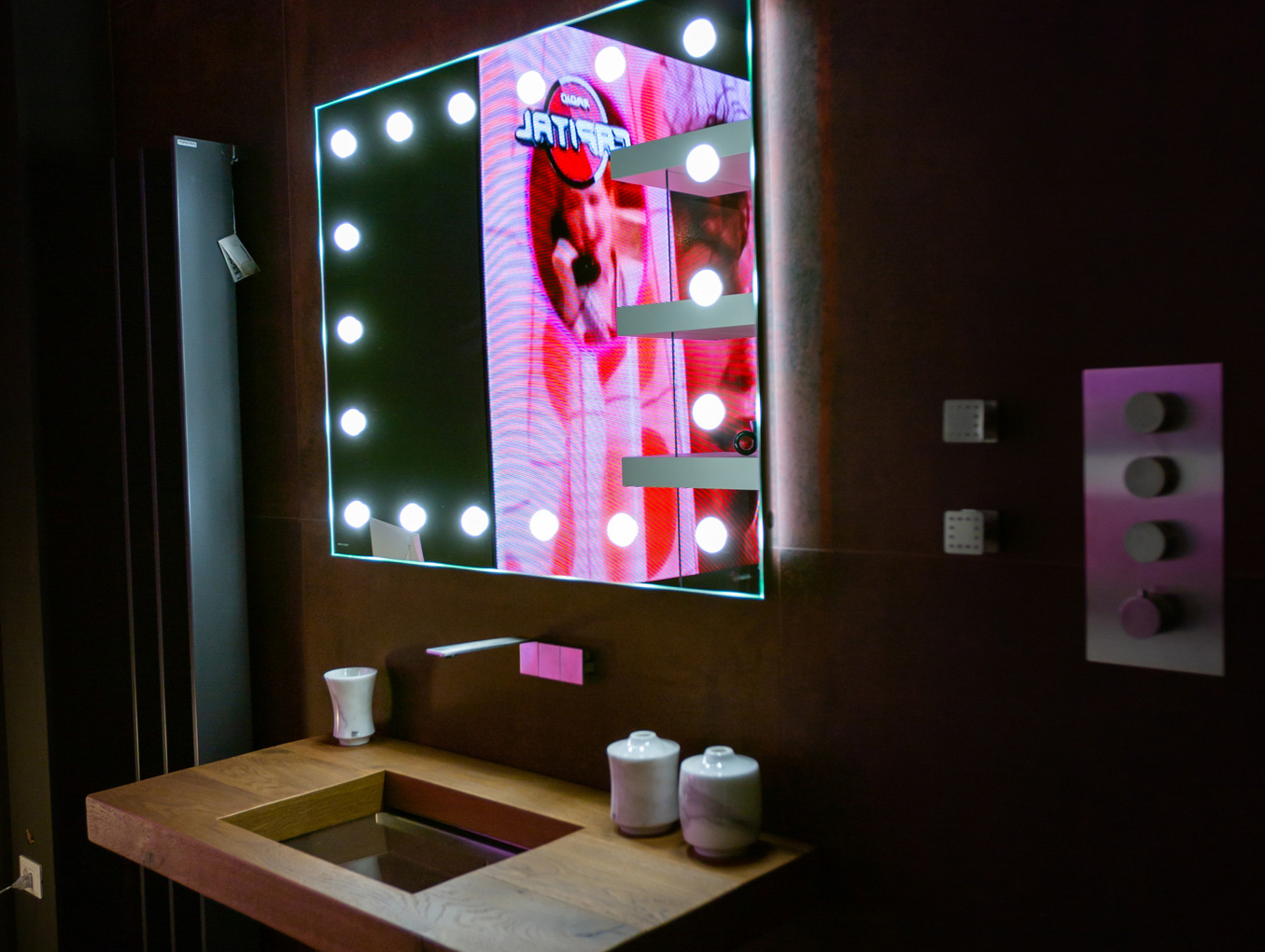 What size and shape should an illuminated bathroom mirror be?
Large bathrooms are capable of hosting a lot of different furniture solutions, but if you are going to create a double sink area maybe you could choose to place one large rectangular mirror that grabs both sinks or single lighted mirrors placed directly on them. In this last case lighted mirrors can be square, round or oval, and you are free to hang the shape you love the most for your master bathroom.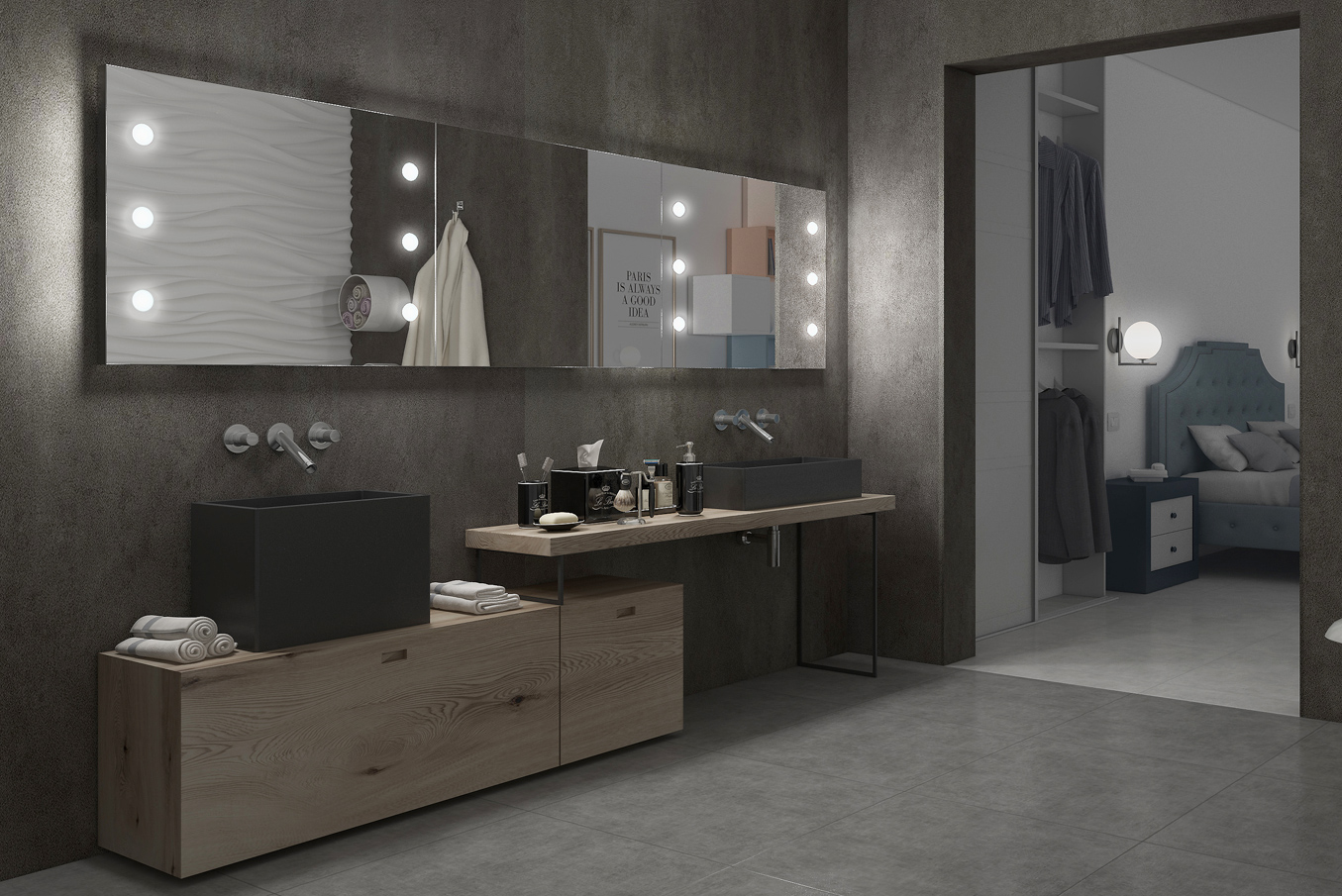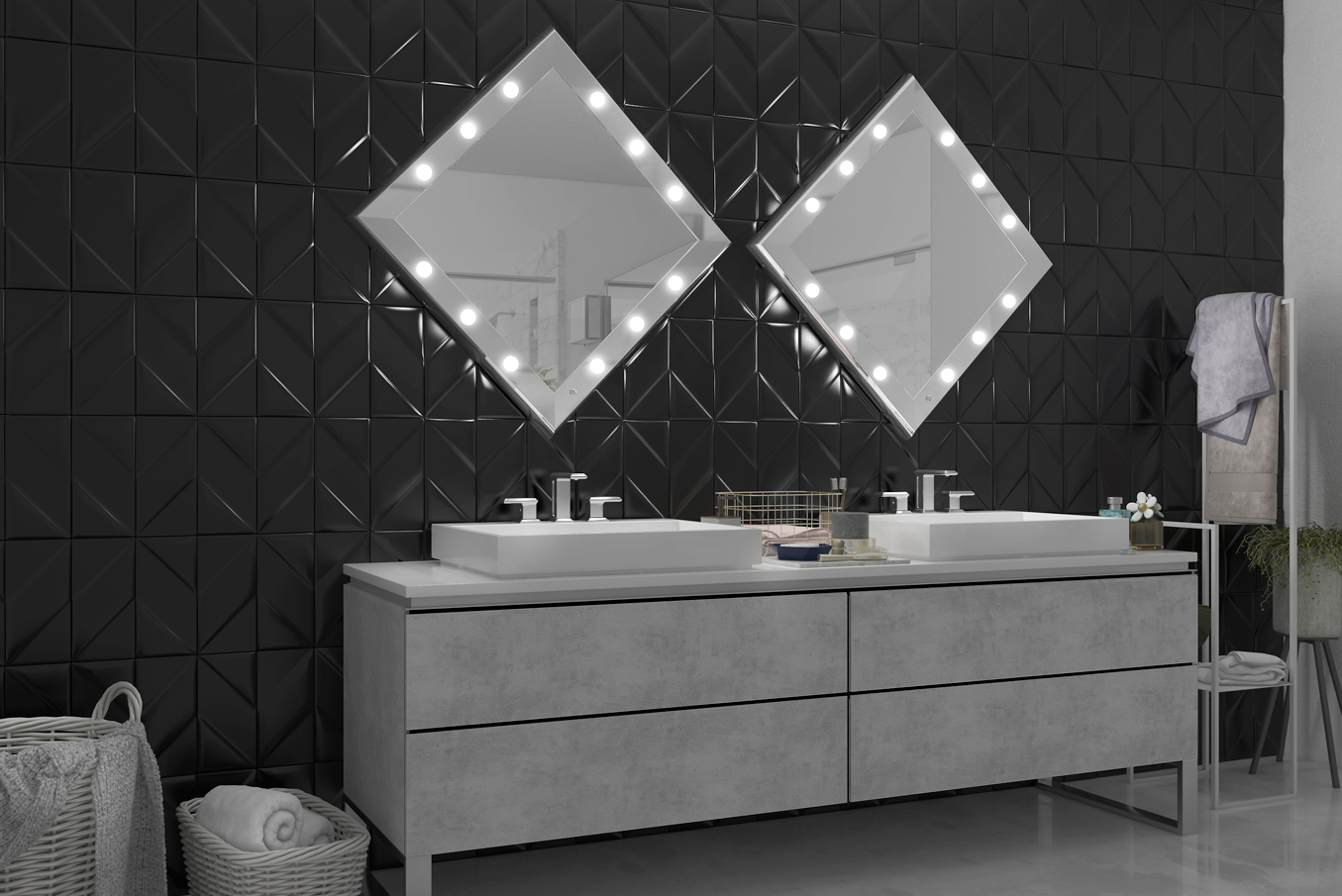 In small bathrooms a powerful mirror with lights and backlit can create a good atmosphere and functionality, especially with a vertical rectangular mirror with lights on both sides!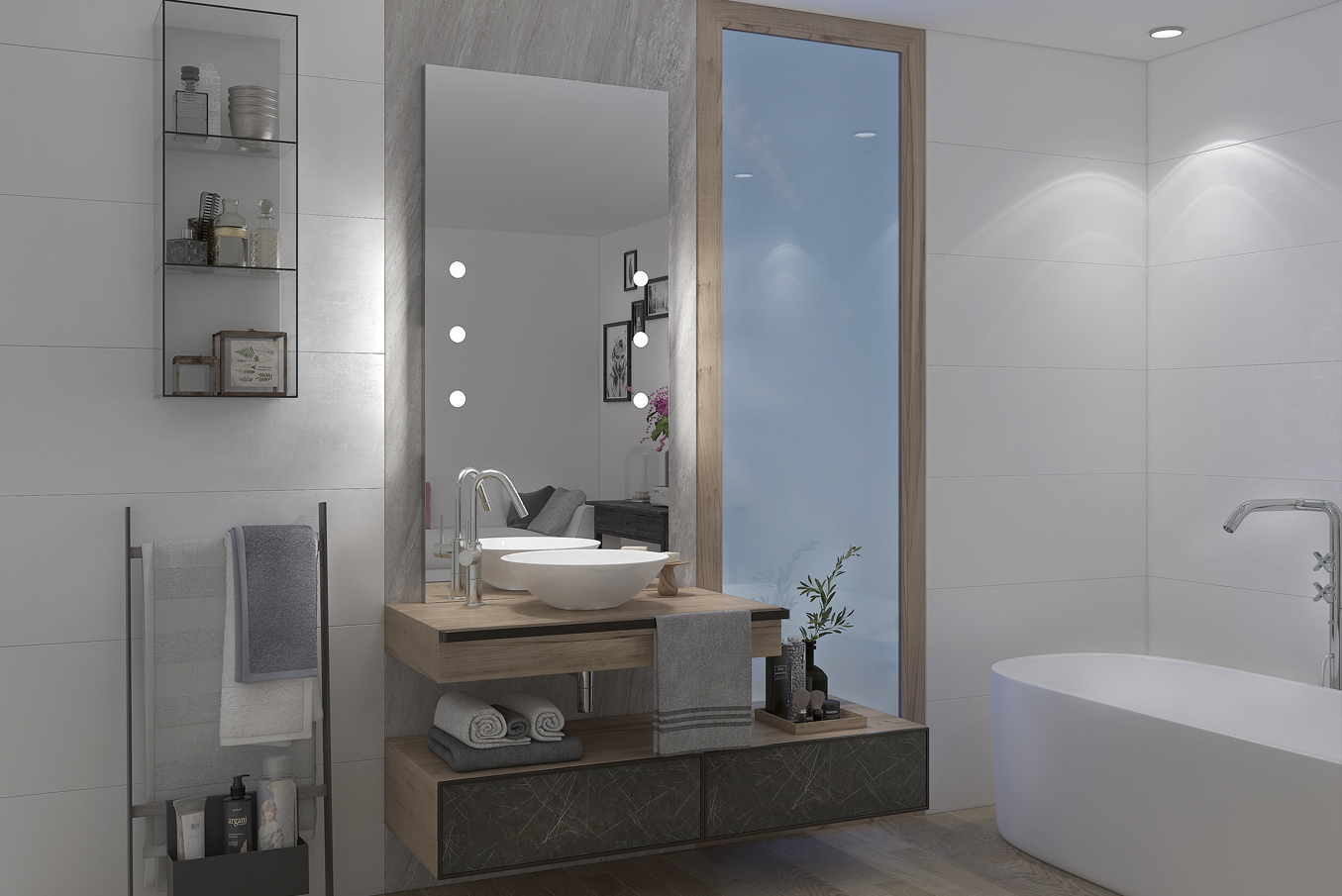 FRAMED AND FRAMELESS WALL BATHROOM MIRRORS
Framed bathroom mirrors are a decision of style that can be chosen if you have a particular interior design such as vintage furniture, wooden details but the most modern manner too.
You can find beautiful bathroom mirrors with aluminium frames with light inside the frame that earn space giving a touch of uniqueness.
Frames can be customized in satin, matte, scratched and shiny steel with a metal color palette including silver, light and dark gold or bronze, black or even a custom RAL color!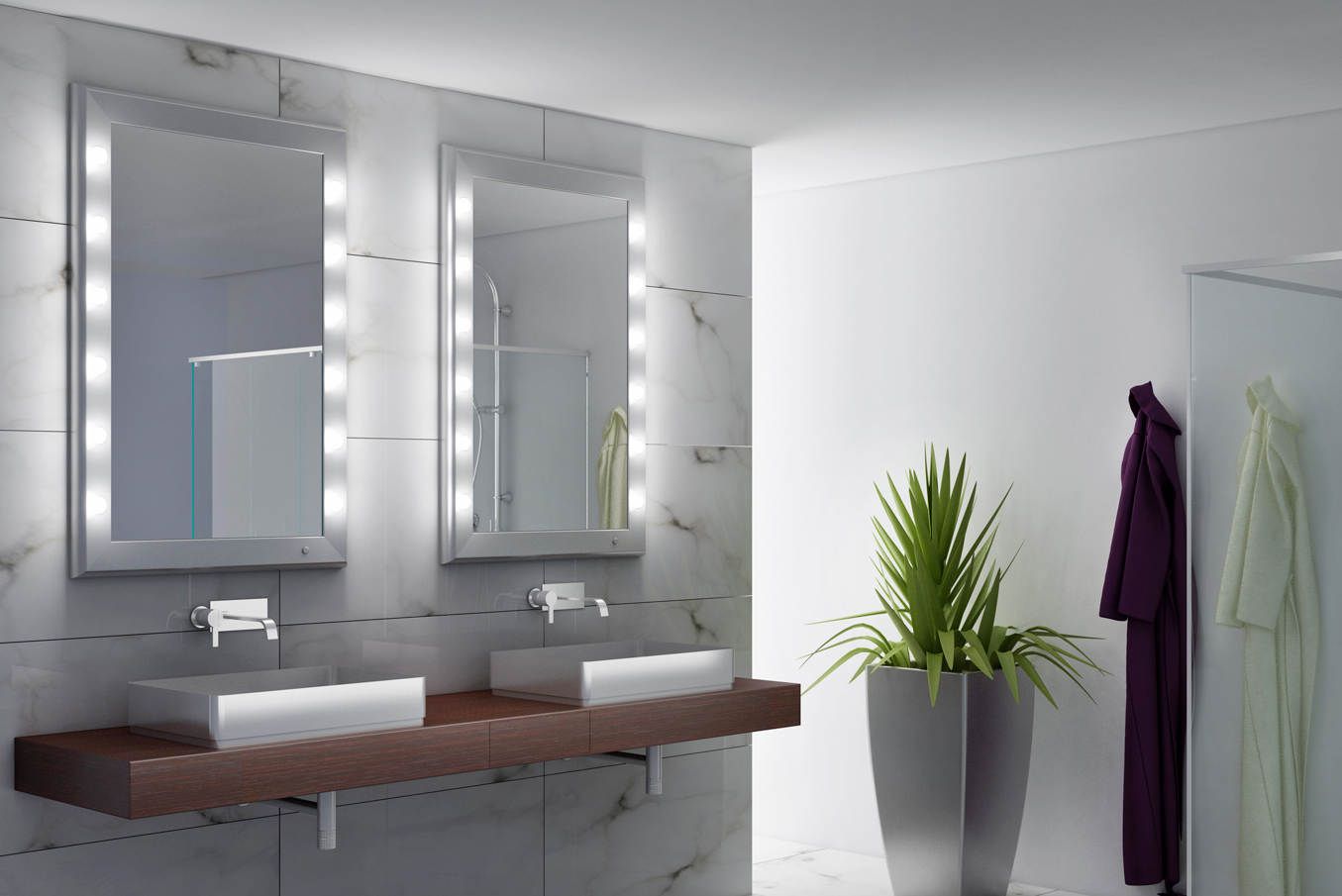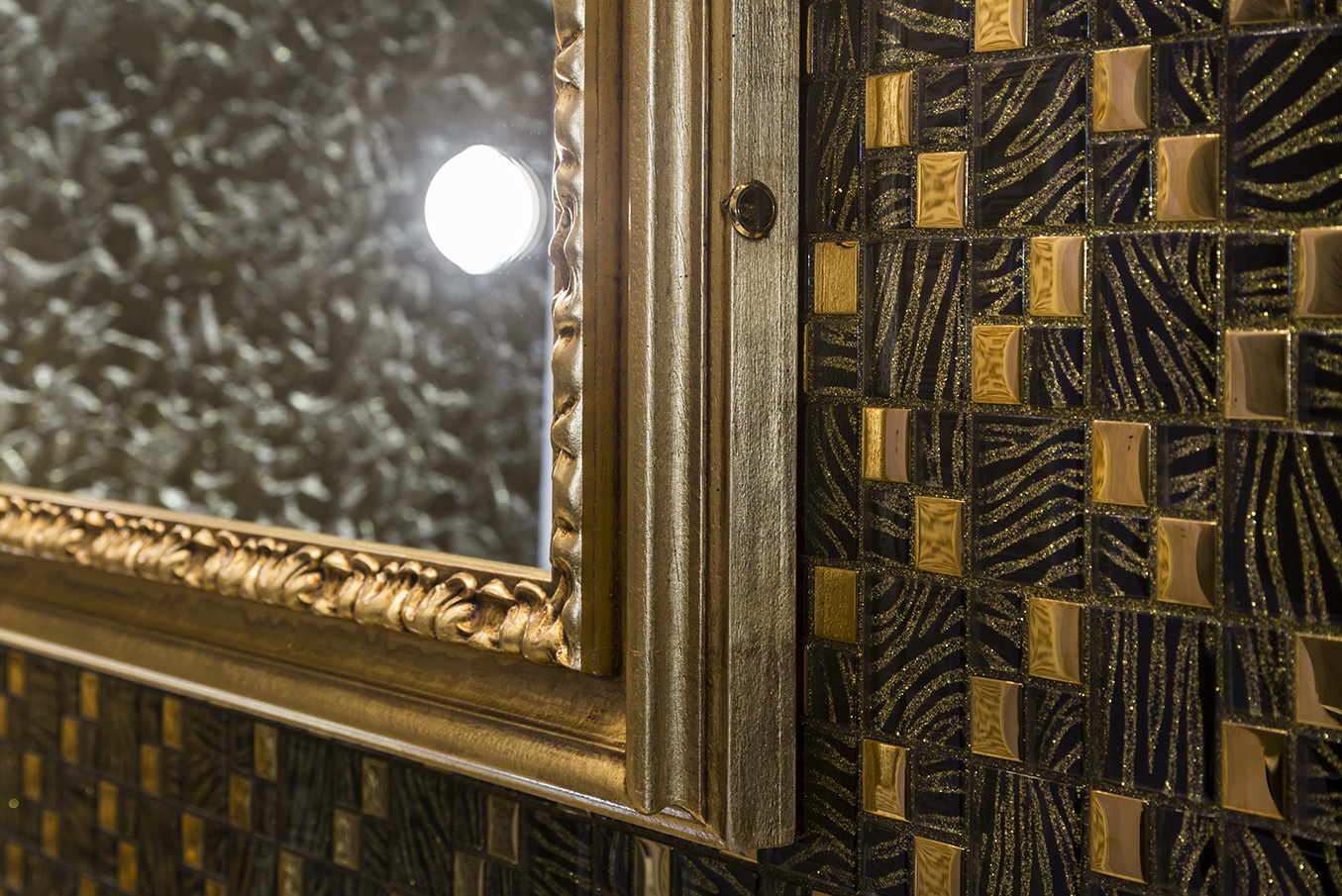 If you like the most particular framed mirror with light bulbs inside the mirror you have only spoiled for choice from contemporary framed mirror, classic embellished frames or baroque framed bathroom mirrors. Maybe our MF line of wooden mirrors can inspire you for a gold framed or a shabby chic bathroom mirror.
The frameless mirror is a trend of the latest year: it fits whatever interior design style and it is the one who wears the back lit system.
See a couple of examples of frameless round bathroom mirrors from our lines MH and MDE.