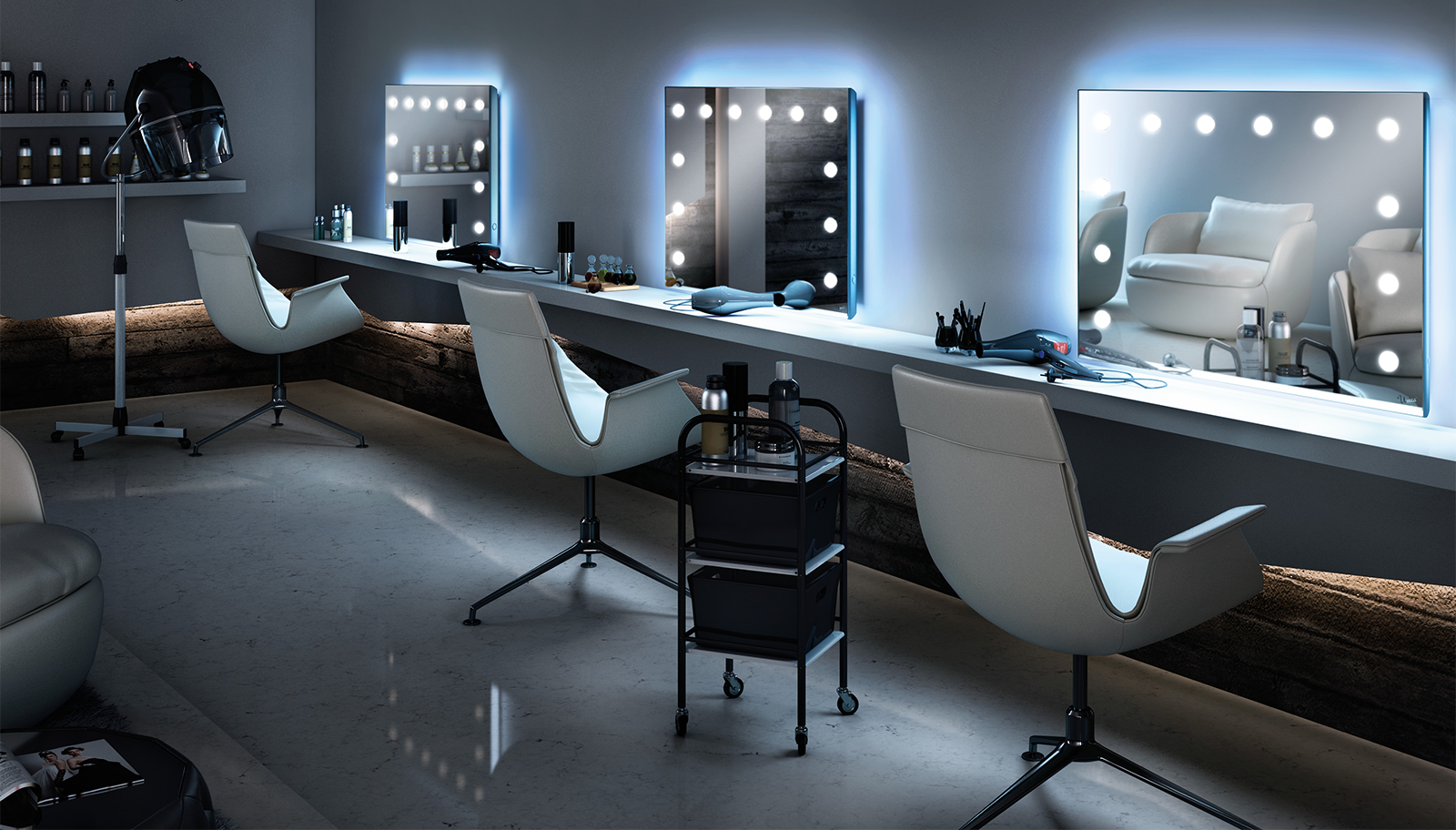 The right salon mirrors with lights for your beauty salon
Each beauty specialist is a little Indiana Jones who unravel between scissors, split ends, colourings, sometimes impossible client's request and the difficult task to satisfy their clients.
The mission is not simple, that's why the tools of the job became fundamental.
One of the most important element is the location: the smart hair-stylist thoughtfully searches the "right one" and, once he found it, he dedicates to transform it in a place which is at the same time pleasant, well structured, useful and attractive for who has to work in.
The beauty professional is an artist too and he knows well that to really express the best creative juices is necessary to feel completely comfortable and in a very cozy and personal place.
The beauty salon has the following main areas (more or less defined depending on the space dimension):
Reception
Waiting area
Operating zone
If the first two areas needs especially aesthetic, welcome and comfort, the last one area needs an high level of technical tools. In this ambience, the proper lighting has a key role because has to be flawless during all the working hours, not tiring for the client and workers eyes and create a nice atmosphere,  but it must have a low energy consumption and perfectly reflects the colours too.
It is consequently necessary an advanced and professional technology able to answer to all these needs.
Light up your art!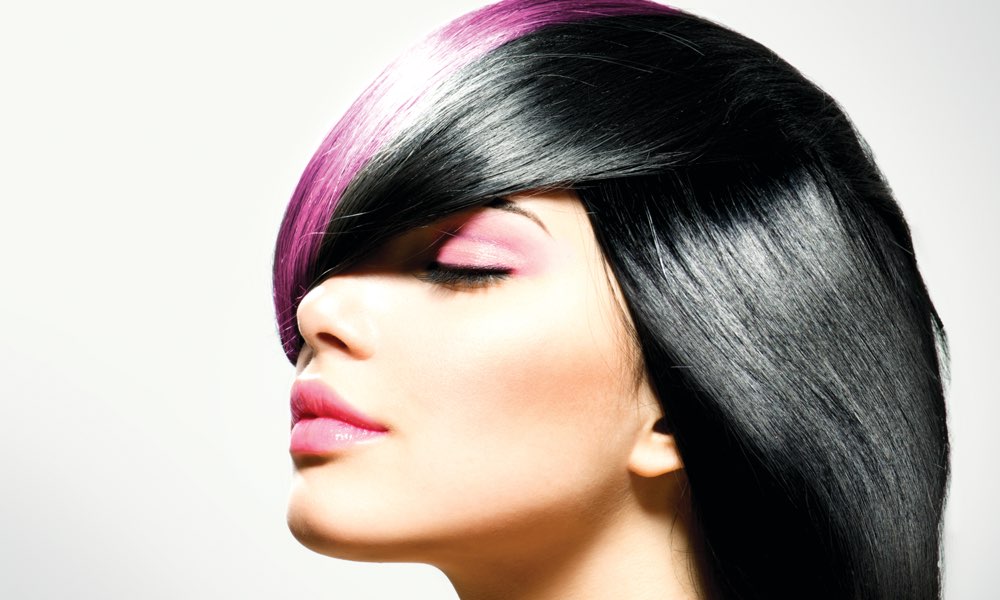 Unica's mirrors with lights are not only mirrors: they are a very high quality product with a unique patented technology which can become the ideal tool for your success.
The lighting technology of these mirrors, called I light, reproduce a light totally  similar to to the sunshine for intensity and colour. The gradation of 4200 kelvin correspond in fact to the light of a wonderful sunny morning, defined "the perferct light", for make up and hairstyling too.
The light sources are not light bulbs, but lenses made in Opal-tech, an highly-refractive, unbreakable material that are capable of spreading and shielding light in a perfectly even manner and completely enveloping the figure.
These lenses have a guaranteed duration of minimum 100.000 workhours corresponding to 40 years of job, they are low consumption (4 watt per each lens) and don't stress the eyes of the hairdressers.
Unica salon mirrors with lights have an aluminium structure which made them non deformable in the time. Their reflaction is perfect and not alterable, for example, at home by the umidity. They are the result of expert artisanal hands who work with and passion to create a very high quality product, unique in the world.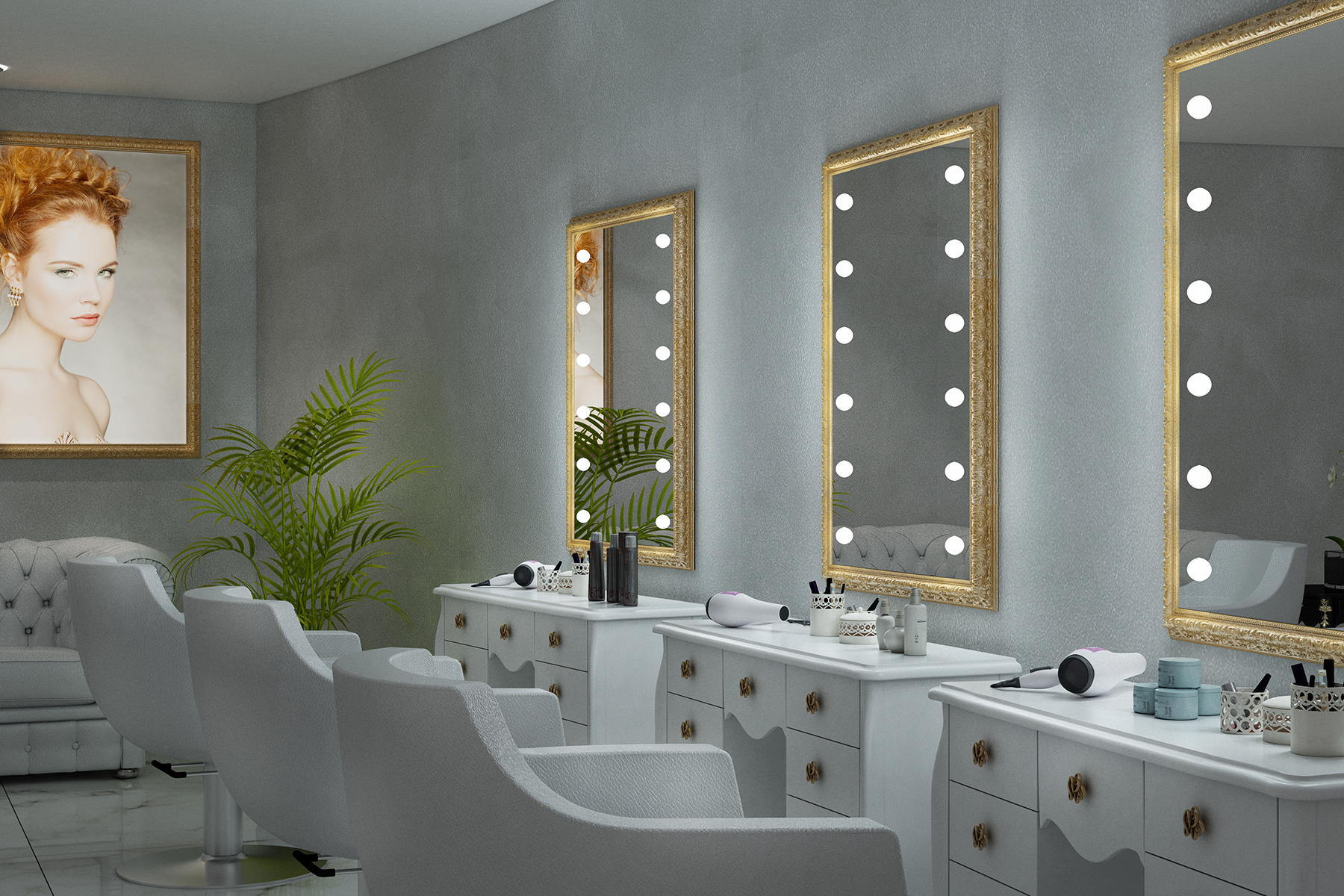 Customizable salon mirrors with lights
There are more Unica's Mirrors Collections that are different by product design: from essential to totally customizable in dimensions, n° of light points, material compositions and frames to allow you to insert the mirror ideally in each beauty salon, each furniture style it has.
Chose the UNICA's technology which gives you perfect reflectance and lighting in a unique product.
You'll not have to ask a client to go outdoor to look at her/his new colour in the sunshine anymore!
Choose the UNIQUE solution which can really give quality and strength to your art!