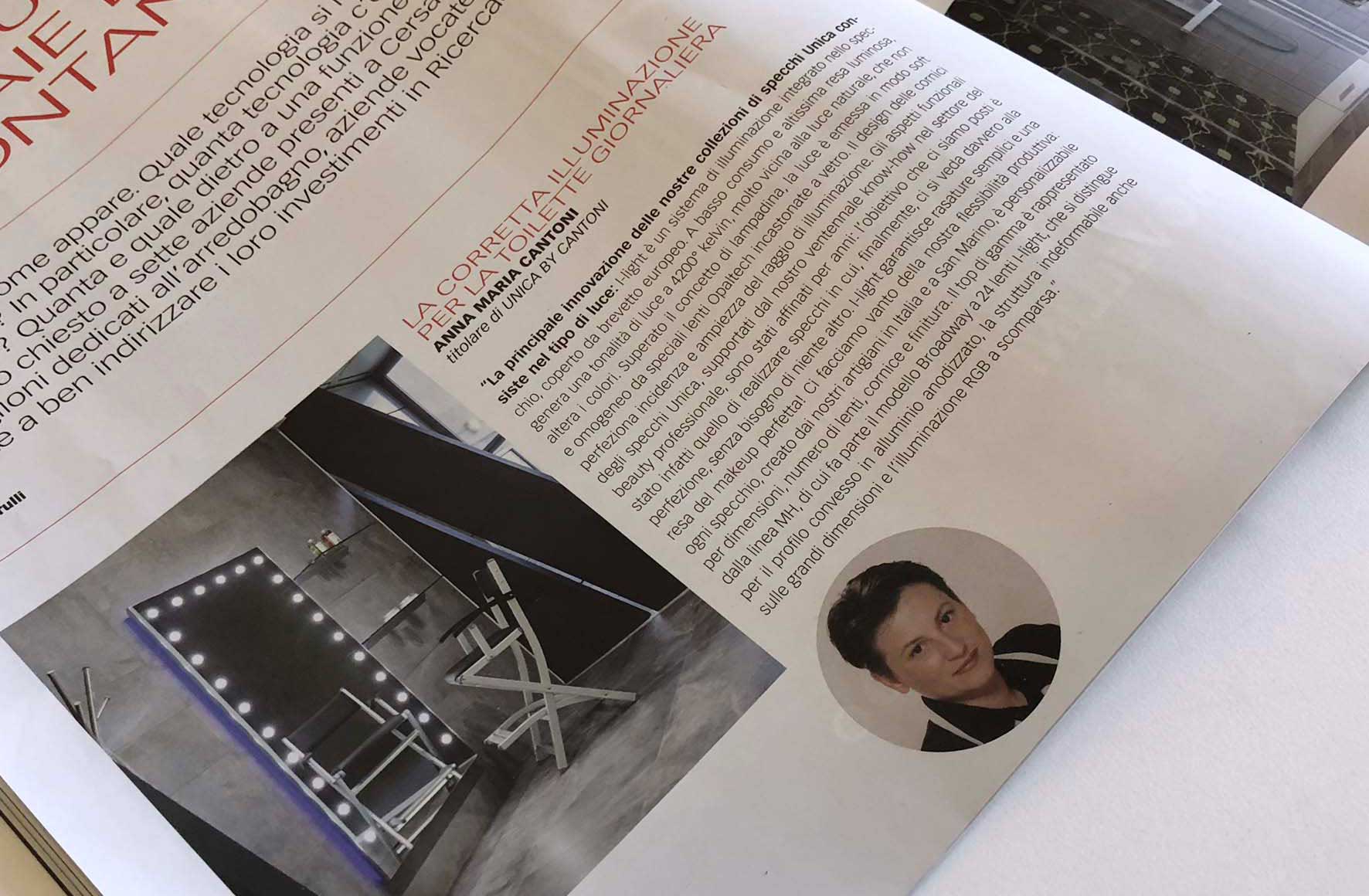 "New shapes new functions. At Cersaie the companies talk about…"
The specialized italian magazine "Il bagno oggi e domani" interviews Anna Maria Cantoni.
Within the special Cersaie 2017 edit in the edition n.304.17 of the magazine, Alba Ferulli interviews the owner of Linea Unica by Cantoni. Here below the full text of the published interview:
The right lighting for the everyday cleaning
" The main innovation of our collections of Unica's mirrors consists in the type of light: I-light is a lighting systeme integrated into the mirror, covered by an european pattern. At low consuption and at very high rendering of light, it generates a shade of light at 4200° kelvin, very close to the natural light, which doesn't change the colours. The bulb is an upedated consempt: the light is issued softly and homogeneously from special Opal-tech lenses setted into the mirror. The frame's design improves the incidence and the extent of the range of lighting. The functional aspects of the Unica's mirrors, supported by our 20 years Know-how in the professional beauty sector, have been improved for years: the focus we get us was infact to realize mirrors in which you can, finally, see yourself perfectly, without needing anything else. I-light guarantee simple shavings and a perfect makeup rendering! We are proud of our production flexibilty: each mirror, created by our artigians in Italy and in San Marino, is customizable for dimensions, number of lenses, frame and finish. The top of the line is represented by MH collection, in wich is included the Broadway model with 24 lenses I-light, which is different by the convex aluminium anodized profile, the non-deformable structure even on the big dimensions and the retractable RGB illumination".