A backlit mirror is a popular choice among the beauty professionals: Unica mirrors with built in lights and backlight provide a double benefit to beauty salons, hairdressers, makeup artists or spas:
-light up the customer's face (or the whole body)  in the right way from all directions (without creating shadows that can make makeup application so difficult!)
-create a modern furnishing style (and colorful if you opt for a multicolor backlight)
We have already told you extensively about our I-light professional lighting, specially designed for professionals. For more information about the beauty equipment designed and manufactured by Cantoni, even for the major global beauty brands, visit our website at cantonionline.com.
But today we want to introduce you to a couple of decorating projects by Italian professionals who have decided to use our LED backlit mirrors in their beauty salons.
Large backlit mirror for a makeup artist studio
Sara Cordaro is a makeup artist located in Agrigento, in our beautiful region of Sicily, very popular with customers for (super long lasting) makeup for weddings and events (Wedding Awards 2023 as one of the best professionals in the wedding makeup sector in Italy).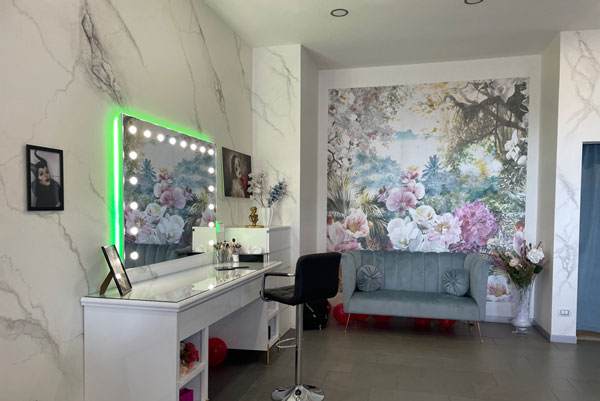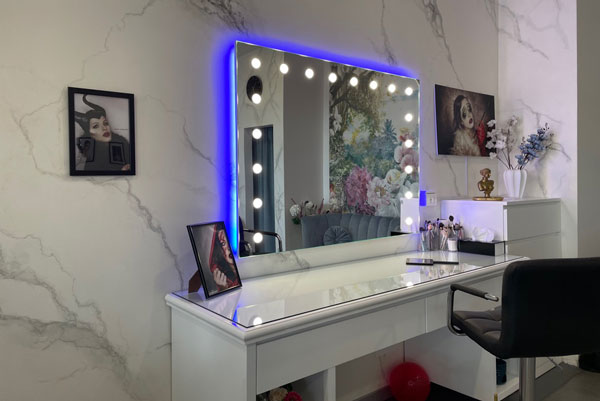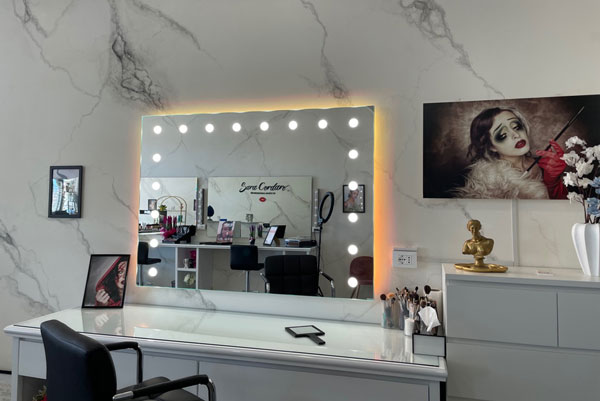 Sara opted for the backlit mirror MH01XL (dimensions 1400X1020X65mm) with RGB backlight that enhances the makeup station. The predominant color is white, embellished on the walls with marble finishes. The RGB LED (which can be inserted on all the mirrors of the MH range, as an alternative to the white backlighting) enjoys its maximum expression on these bright interiors, giving the customer a pleasant makeup session.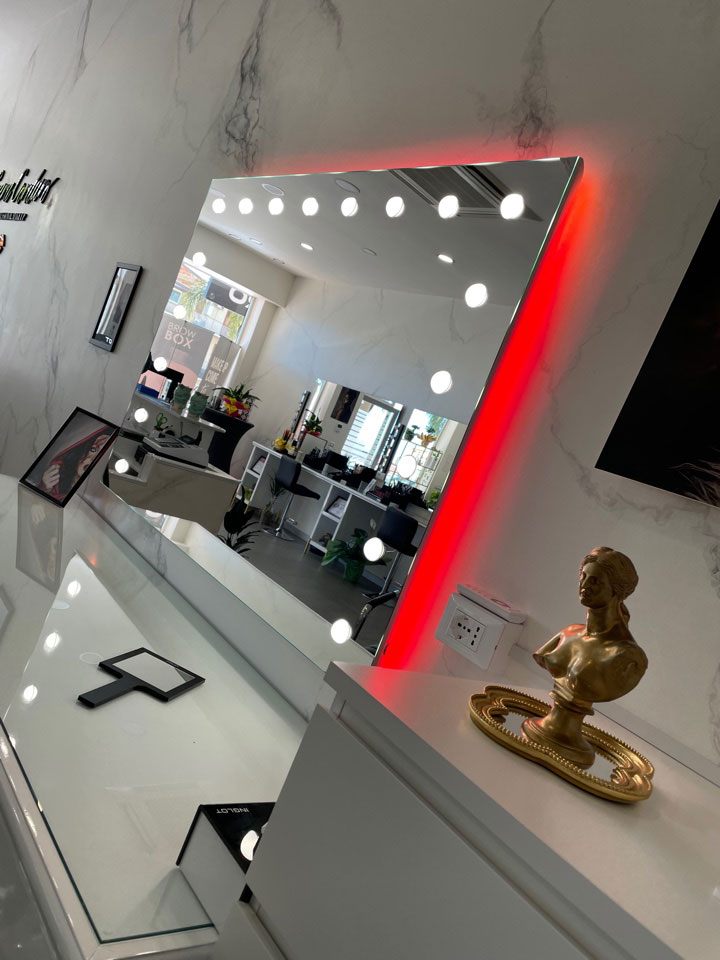 Backlit full length mirror for a hair salon
We stay in Sicily and we jump into Hair Planet Taormina. Gianni and Greta Schillirò (father and daughter), with international training and work experience among the elite hairdressers, from Jean Louis David to the Sassoon Academy*, have embraced the philosophy of eco-sustainable beauty in their hairdressing salon.  All hair care and treatment products they use are largely produced by natural, eco-certified or organic environmentally sustainable ingredients.
A wonderful new look born from the recent interior renovation: blue and antique pink dominate the walls; gold-colored lamps and furnishing accessories play in contrast and decorate the ceiling that recalls a starlit night sky. A refined atmosphere of "One Thousand and One Nights", as defined by the customers.
*Vidal Sassoon was the British hairdresser- and then philanthropist, inventor of the bob cut.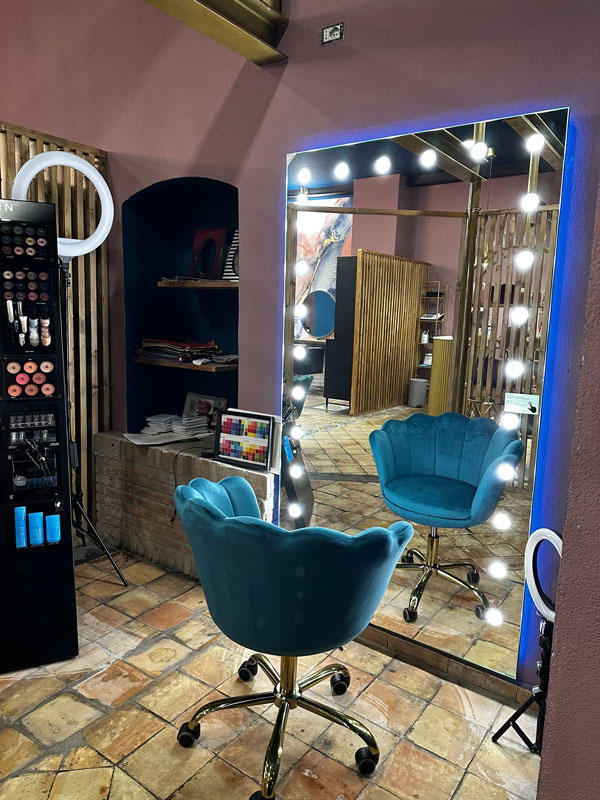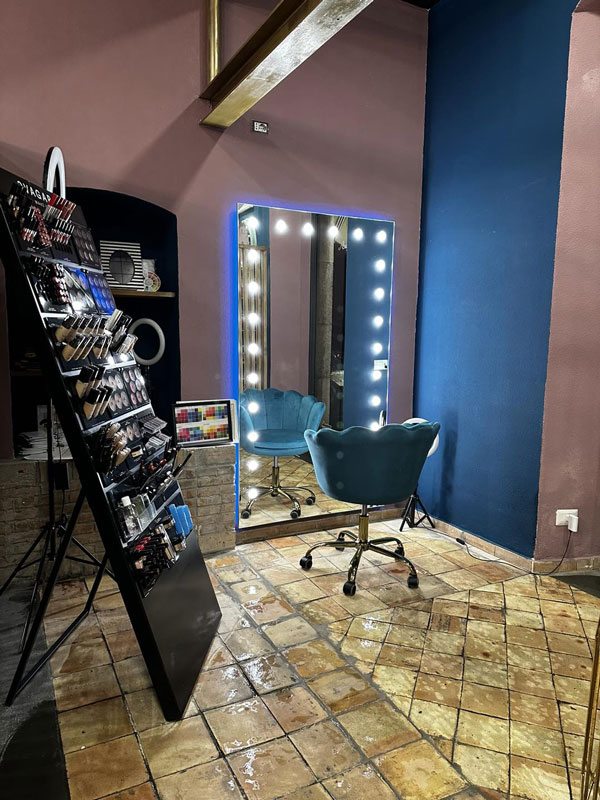 For their make-up corner they have chosen the backlit full length mirror MH05 (dimensions 1020X1800X65mm).  The vibrant electric blue of the backlighting works in perfect harmony with the decorative scheme of Hair Planet and creates a "royal" makeup station.
In the Facebook Page you can see the pictures of the whole salon and this stunning interior design project.
Do you run a beauty salon? You can be interested in these blog posts: