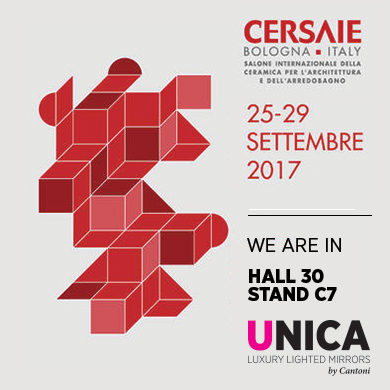 CANTONI AT CERSAIE 2017:
A BRAND IDENTITY IN PERFECT BALANCE BETWEEN BEAUTY AND DESIGN

The Cantoni booth at Cersaie 2017 tells, through a journey between light, reflections and inspirational settings, the story of the long Cantoni's staff work on the ultimate light for the facial and body care. These studies, developed through 20 years of fruitful collaboration with the most important beauty brands worldwide, have led to the creation of the I-light lighted mirrors of the Unica by Cantoni range.
Since 2015, driven by a growing demand for the design of beauty spaces, Cantoni has started to shift its research into perfect lighting from the professional world to that of interior design. The synergy between the industrial design approach, experience in the field, artisanal attention to detail and creative flair has given rise to the Unica project.
Where: Bologna Expo, Hall 30, Booth C7
Quando: September,  25 – 29